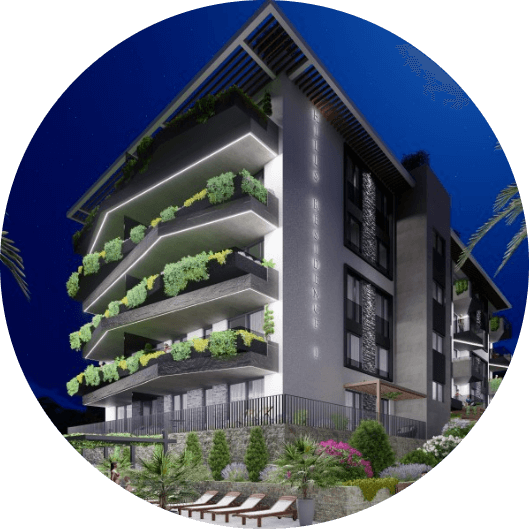 Project HILLS RESIDENCE Makarska
The HILLS RESIDENCE project is a modern complex that brings a touch of freshness and original architectural solutions to the world of real estate in Makarska.
It consists of 3 luxury buildings with a total of 120 residential units (40 apartments per building) and 144 garage parking spaces.
In addition, it contains 2 outdoor swimming pools, Jacuzzi hot tubs, a children's playroom and a cocktail bar, which will certainly provide future tenants with plenty of entertainment and opportunities to relax.

With the Hill Residence project, we want to create an environment that will make Makarska an even more desirable place to live, where our residents will have all the comforts at their fingertips and will be able to spend more free time for themselves and for healthy lifestyle habits.
Our vision is to create the highest standard of urban living, so in addition to comfort and privacy, it is our priority to provide our tenants with various services within the complex available only to them. This makes us different from ordinary residential complexes and sets the limit of modern living even higher.
This type of housing concept brings diversity, comfort and safety into everyday life, which will not be reduced only to the square footage of the residential unit.
The architectural solution, the design of the space and the quality of the construction were made according to the highest modern world standards, and a special emphasis was placed on environmental protection and the creation of the highest quality living environment.
The company ARGENTARIA d.o.o. is credited for the Architectural solution, and in order for the quality of maintenance and services to remain at the highest level, long-term management of the complex by Hills Residence is planned.
Contact us
Have questions?
If you have any questions about our apartments or want to tour the facilities, we are at your disposal. Our team of experts will be happy to provide you with all the necessary information and organize a viewing that will help you make a purchase decision. Feel free to contact us via the web form and enjoy looking for your new home.
Contact us